Hashcat er verdens hurtigste og mest avancerede værktøj til cracke adgangskoder, understøtter fem unikke former for angreb, over 160 højt optimerede hashing algoritme. Hashcat understøtter i øjeblikket CPU'er, GPU'er og andre acceleratorer på Linux, Windows og OSX. Nedenfor er vist hvilke krav der er til CPU og GPU driverne.
Det kan også bruges til teste styrken af dine egne adgangskoder. Her vil jeg vise hvordan man gør i Windows.
Installer .NET 4 framework hvis .NET ikke er installeret allerede. Download Hashcat til Windows det er end 7z fil du pakker ud efter download. Der er to filer en hashcat32.exe og hashcat64.exe, bruger du 32Bit OS køre du hashcat32.exe eller 64Bit hvis dit OS er 64Bit.

Test om computeren har OpenCL Drivers and Runtimes for CPU installeret, skriv følgende kommando hashcat64 –I det er et stor i. Du vil se følgende hvis du mangler OpenCL.

Download Intel OpenCL
2. Opret en fil og kald den hashes.txt. Generer MD5 hash skriv dit eller dine adgangskoner på websitet, kopier de MD5 Hash der bliver genereret til filen hashes.txt.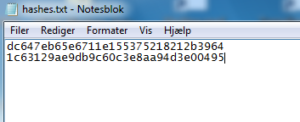 3. Saml password ordbøger på nettet eller download https://github.com/danielmiessler/SecLists/tree/master/Passwords
De 2 store cracking ordbøger er Ruckyou og CrackStation. Rockyou indeholder over 14 millioner unikke passwords. CrackStation til MD5 og SHA1 hashes, er der en 190GB, 15-miliarder-entry opslagstabel, og til andre hashes tilbyder de en 19GB 1,5 miliarder-entry opslagstabel. Søg på Google efter password lister.
4. Skriv hashcat64 –-help for at de mange forskellige options der er, og der er rigtig mange muligheder. Dem jeg vil bruge er -m = hash type, her vælger jeg 0 for MD5 og -a = Attack mode, her vælger jeg 0, for Straight, se nedenfor.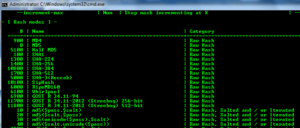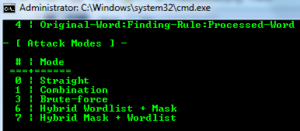 5. Nu er det tid til, at teste adgangskodernes hash værdi som vi kopieret til filen hash.txt. skrive følgende kommando:
hashcat64 –m o –a 0 C:\hashcat-3.30\hashes-txt C:\hascat-3.30\Rockyou.txt
Ønskes outputtet i en fil, bruges -o output.txt.
Hvis dine adgangskoder bliver cracket, er det tegn på svage adgangskoder.